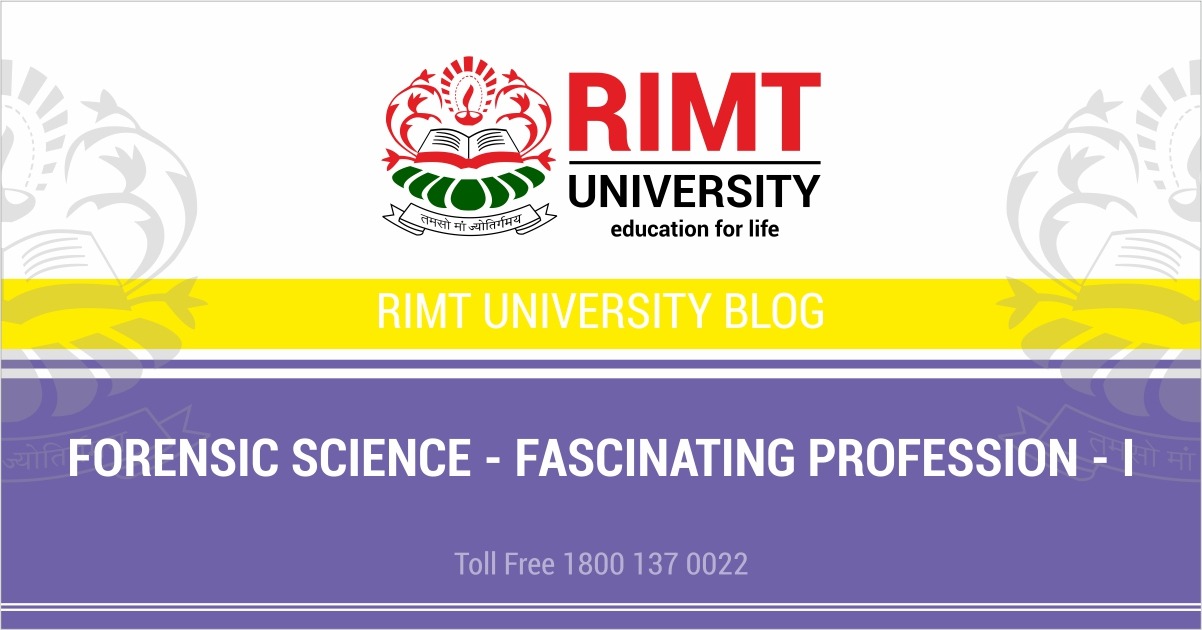 Forensic Science: Fascinating Profession-I
It is a general perception that God has created this whole beautiful universe but stop a moment and just think who created the GOD?
Now you may be perplexed that in forensic science where the god has come in between? Yes, before accepting something just as such, being a science student, one should ask so many such questions.
No one starts running at the time of birth. One has to pass all the stages of growth and then only he starts running. God and Forensic science also fit into that model of growth. But first God!
If one thinks rationally and go back to the era of black holes then one can understand that billions of years it took to have the universe at this stage where earth and creatures on the earth originated. Though universe is still changing, might be for the more suitable environ for the inhabitants or to get destroyed completely. I think, this cycle will go one and no role of entity like God is there. Then, why to discuss God? For this listen a story, there is a jungle where a population of human being lives. One day someone saw a very big creature from whom they got terrorized and no one dared to venture that territory where that huge creature is lying. Then a young brave boy dares to face that creature and kill it to free that area of terror. All people dance in the joy and lifting that young boy on the shoulders and sing in the praise of his bravery. Story of his bravery percolates to the next generations through those poems and songs which are further glorified by new additions and generations take pride of it as well as inspiration and therefore they start worshiping while chanting those poems. And thus the God has been created. Generations on and on keep on repeating the same which finally becomes ritual to the extent that if that ritual is not followed by someone he will be punished in one of the many ways like excommunicating from the group, physical torture, hanging etc.
At this stage clearly two groups have been created by themselves, one majority who believes in those rituals and the other who questions those rituals. And the majority group has to devise means and methods to prove other group wrong and justifying the act of punishment. Among the many means and tools used for this, one is known as forensic science. By having this mechanism, the majority group could contain substantially the number of non believers by creating the sense of fear among them. That does not mean that the other group has started accepting their beliefs but that means that they have stopped contesting. But when someone still resists then he himself becomes creator. And, so the Creator of new groups, states, nations and then the victor of the globe.
Now take other story by taking cue from the previous story, what element was used to deter the other group in minority. If you observe carefully then it appears to be power of majority and its fear in the mind of minority. Fear is a psychological state through which a sense of subjugation can be created in them. The civilized society does not want to be labeled as a society where fear is used to control the minor group therefore to give fear a respectful status, mask of great characters is developed in form of Gods, demigods and their representatives. Actually these representatives have the real powers to control the people. To justify this, if you see the constitution of many countries, it is mentioned that the King is the representative of the God to the extent that it is mandate of the God to give them political and religious powers. They claim that king cannot be subjected to earthly authority and got the right to rule by the sweet will of the God.
How strange and comfortable for a group of society to suite their interest!
 How and what role of forensic science in this system, will be described in the next episode.
Dr. O.P Jasuja
Professor, Department of Forensic Science