RIMT University has established an excellent Dron Knowledge Center to providing benefit of Library Users. The Library Collection also includes a large section of expensive Encyclopedias, Reference Books and a large number of Textbooks related to Engineering & Technology, Management, Commerce, Medical and Health & Life Sciences, Legal Studies, Ayurveda Humanities and Social Sciences, Pharmaceutical Sciences and other related fields. Besides this, the students/ faculty/ staff can access the resources of the National Digital Library of India (NDLI) which consist of 6.9 lakh Books, 4.2 Corer Research Papers, 3800 + Audio Lectures, 7.5 lakh Thesis and 4.6 lakh Video Lectures. Can be accessed at https://ndl.iitkgp.ac.in/ .The Dron Knowledge Center of RIMT University consists of a Central Library & Nine Council Libraries situated in different Academic Blocks. These are well established modern libraries catering to the learning needs of the academic community. The whole collection of the library is computerized and its WEB-OPAC is electronically accessible. All the libraries have a Digital Library unit to provide access to digital resources. The Dron Knowledge Center has maintained EBSCO, K-Hub, Manupatra and AIR Info Tech electronic databases and has acquired the institutional membership of the DELNET (http://delnet.in/)providing Remote log-in facility to access electronic resources 24 X 7 and ensures high network security from where the books and articles are procured on demand of the students and teachers and utilizing its Inter Library Loan and document delivery services on regular basis.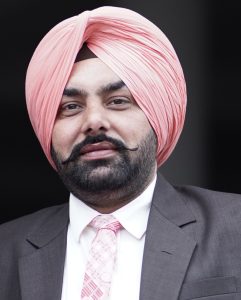 Ph.D Lis, M.Phil Lis, M.Lib, MA Political Science (Chief Librarian)
Campus: Delhi-Ludhiana NH-1, Near Floating Restaurant, Mandi Gobindgarh-147301.
 Mobile No.: +919988600801
E-mail: parminder_singh@rimt.ac.in
Library opens on all the days 8 AM to 6 PM.
Dron Knowledge Center is member of DELNET (Developing Library Networks) to facilitate sharing of resources.
Dron Knowledge Center Membership & Circulation Rules
Membership is open to all the staff and the students of RIMT University.
Books Issue as per Membership Category
| | | |
| --- | --- | --- |
| Category | No. Books Issued | Duration |
| Teaching Staff | 6 | Full Semester |
| Non- Teaching Staff | 4 | 30 days |
| Research Scholars | 4 | 30 days |
| Under Graduate Student | 3 | 15days |
| Post Graduate | 4 | 15 days |
No Dues Certificate (NOC)
"No Dues Certificate" (NOC) from the University Library for student members is mandatory. Academic certificate including Mark Sheet, Degree Course Completion Certificate will be given only after issuance of the NOC by University Library.
Borrowers will be held responsible for materials out on loan. If the material is lost, an immediate report should be made to the Librarian to enable appropriate action to be taken. The borrower will have to replace the book and pay the overdue fine if any. If the book is one of a set or series they may be asked to pay/replace for whole set or series.
Books may be renewed if the book has not been reserved by other reader. Members need to bring the book to the Library at the time of re-issuance.
Dron Knowledge Center has a book bank facility and student may get extra books issued apart from their regular book issuance limit of Library.