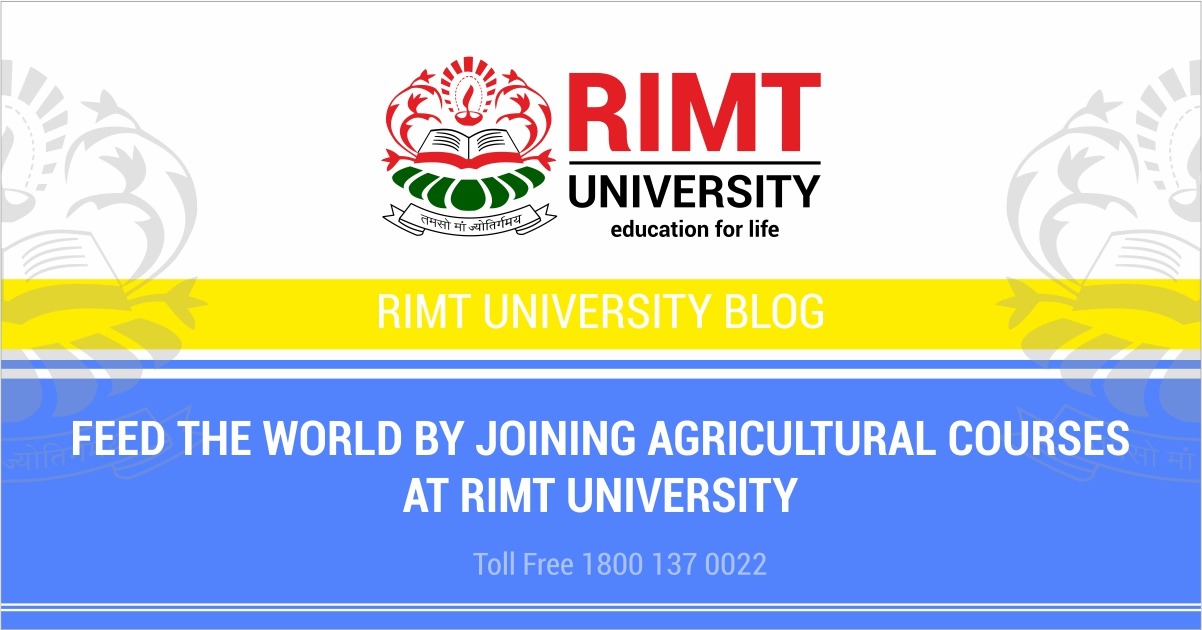 FEED THE WORLD BY JOINING AGRICULTURE COURSES AT RIMT UNIVERSITY
Agriculture is the backbone of the Indian economy, given to the fact that it contributes about 17 % to the GDP of the country and nearly 60 % population of the country is dependent upon this. This necessitates the development of competent human resource in agriculture by imparting quality education to achieve and sustain prosperity. The Country needs competent human resource in agriculture. This necessitates development and implementation of the curricula to meet regional, national and global challenges with focus on meeting the needs of stakeholders in academia, industry and other areas of agriculture.
There is an ideal place for the students to realize their dream of pursuing career in agricultural sciences i.e. the RIMT University in MandiGobindgarh, Punjab situated on a prime location on the GT Road. The School of Agricultural Sciences & Technology of the University offers both UG and PG courses in various programmes of agricultural sciences such as B.Sc (Hons) Agriculture, M.Sc Agriculture (Agronomy, Entomology, Horticulture, Plant Pathology), B.Sc Food Science, B.Sc. Nutrition and several other.
It is a matter of great satisfaction for the students and their parents that new curricula as per recommendations of the 5th Deans Committee constituted by the ICAR (Indian Council of Agricultural Research) has already been implemented. This provides a scope of complete one year to the passing out students to get practical training in various areas of their choice such as Mushroom Cultivation, Protected / Organic Farming, Commercial Horticulture, Commercial Beekeeping etc. The curricula have been designed in a such a way so that the students after having passed the courses may start their own enterprises to become "Job Providers rather than Job Seekers". They are shaped as the "Market-ready stuff". The RIMT University also facilitates education of the students by provisioning various scholarships / fellowships.
Dr. Gursharan Singh
Dean, School of Agriculture Sciences
RIMT University