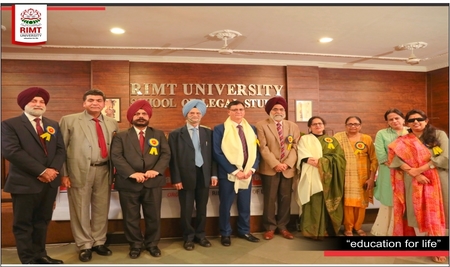 Seminar on Child Abuse & Sexual Harassment
School of Legal Studies, RIMT University organized seminar on 14th November 2019 based on the theme "Child Abuse and Sexual Harassment: Awareness and Protection Mechanism". Chief Guest Justice Raj Shekhar Attri graced the event with his presence and told that such seminars should be conducted often in order to raise awareness among students regarding such critical issues. The Event was chaired by Rahish Pahwa(Advocate, Punjab and Haryana High Court) ,Vice Chancellor Dr. A.S. Chawla, Pro Vice Chancellor Dr. B.S. Bhatia, Dean RSOLS Dr.S.P.S. Salooja, HOD RSOLS Dr. Jyoti Angrish along with The Chief Guest.. Dr. A.S. Chawla welcomed the dignitaries and delegates. He also discussed certain instances of sexual harassment. The keynote speaker Advocate Rahish Pahwa spoke about the kinds and causes of Child Abuse and also discussed various laws relating to Child Abuse. Dr. Salooja in his address said about the theme of the event and gave the details about the crime rates against children. Dr. B.S. Bhatia gave the Vote of Thanks.
The papers were evaluated in Technical sessions. Students also presented their paper through Web Conferencing. Dr. Monika Ahuja, Dr. Amita Kaushal, Advocate Rahish Pahwa, Dr. S.P.S. Salooja and Dr. Jyoti Angrish were a part of these technical sessions. The participation of Students and Faculty Members was appreciated by the Chief Guest and the Authorities. The Seminar over all was a Success.