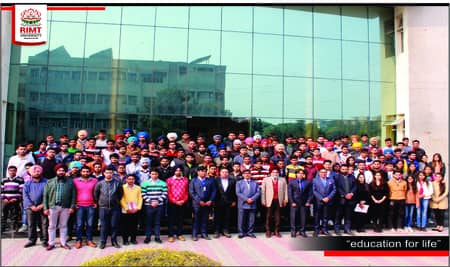 148 Companies visited RIMT University for placement in 2018
RIMT University Considered being the epicenter of academic and professional growth in the state of Punjab saw an excellent placement of its students during the session 2018. The high acceptance of the students by the corporate sector was the result of a concerted effort on the part of the faculty and the Training & Placement cell in creating a pool of talent with the right aptitude and soft skills.
More than 148 companies from diverse industry sectors visited the university campus and hired students from Engineering, Management & Commerce, Hotel Management, Agriculture, Pharmacy, Physiotherapy, Sciences, Fashion Design, Media and Journalism and liberal Arts domain. The Management takes pride in sharing that more than 6352 students got placed through the campus drives with another 265 students being placed from the adjoining colleges/institutes who participated in the joint campus drives of the University.
The highest package was Rs. 12.5 lacs per annum while the lowest package was Rs 2.8 LPA with the median package being 3.12 lacs per annum.
Some of the prominent corporate houses that visited the University include Byjus, GrapeCity, Artech, R1RCM, Edwisor, Catalyst one Solutions, Just dial, Mobiloitte Technologies, Axis Bank, HDFC Bank, Jayashree Polymers Pvt. Ltd, Jindal Electrical, IDS Infotech, MVM Industries, o3hire, Telecom Network solutions, Unicef, Seasia Infotech, Chandigarh City Centre, RDC Concrete, E-Team INC, Magnus International, Vivo Mobile, Aricent Technologies, Tommy Hilfiger and many More.
The University is the legacy of more than 20 years of dissemination of academic excellence under Shri Om Parkash Bansal Educational and social Welfare Trust in 1998, established by its chancellor Dr. Hukam Chand Bansal.
While congratulating the students on their excellent achievements, the chancellor Dr. Hukam Chand Bansal exhorted them to perform well in their career, become productive citizens and contribute to their families and the economy alike. He wished them all the success in their future endeavors.
Mr. Vijayant Bansal , Chairman, RIMT University while sharing the exuberance of the students promised that the Management & the faculty shall be always in the forefront to make all out effort to develop their holistic personality so as to achieve gainful employment.
Dr. A S Chawla, Vice Chancellor of the University shared that the secret of the remarkable achievement was due to the rigorous industry oriented curriculum, intensive practical and industrial training, Proactive mentoring of the students from the second year onwards to the months leading to the recruitments of the students. Further he shared that at RIMT University we firmly believe in diversity in Placement and made a conscious effort to improve the same.
Mr. Barjinder Suri, Head Training & Placement cell placed on record his heartfelt thanks to all the deans/principals/HODs and the Faculty who whole heartedly supported his team. He on his behalf expressed his desire that he shall put forth his best effort in the coming year and surpass this milestone achieved.