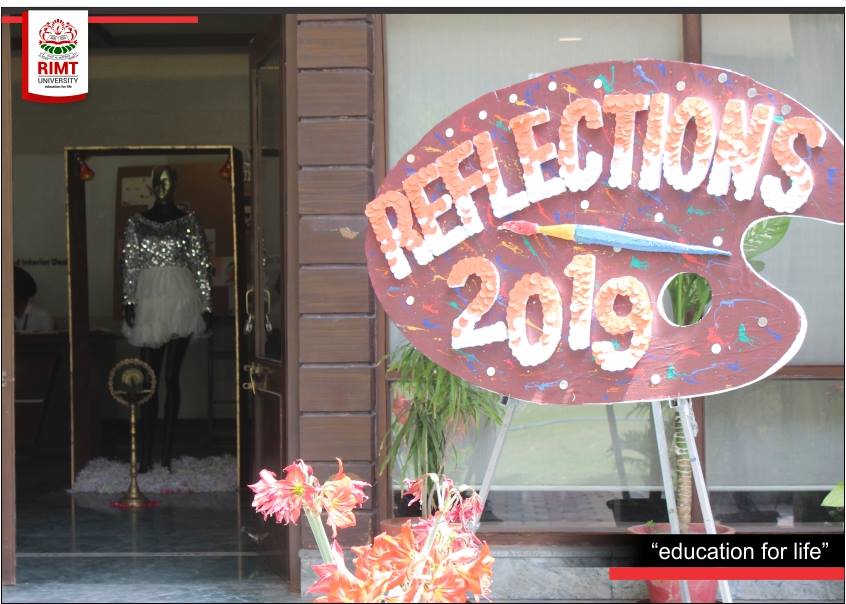 REFLECTIONS'19 Annual Art Exhibition, Inter College Competition & Fashion Show
School of Fine Arts and Design organised annual Art exhibition from 8th to 12th April,2019 followed by Inter college competition and Fashion show on 12th April,2019 by the name of Reflection's 2019. Dr AS Chawla,Vice chancellor, RIMT University inaugurated the event.
Mr Aman,Make up artist-Khanna, Mr Kunal and Mr Satyam from world University of Design,Sonipat, graced the occasion as guests.
The students exhibited paintings,clay arts and outfits designed by them including the retro and modern style. The event comprised of varied corners like kids corner, horror corner, creative corner that added variety and colour to the event .
Various inter University competitions including Mural slabs, Jewellery designing, photography, poster making, Rangoli, file decoration, greeting cards and nail art were held at different venues at RIMT University.
In canvas painting the first prize was bagged by Veerpal kaur, ACTTI, Nabha and 2nd by Jagjit Singh, RIMT University. In jewellery designing 1st prize was won by Simranjeet kaur and Rauniyar, RIMT. Sualina, ACTTI, Nabha, bagged the 1st position and 2nd prize was won by by Anjali Thakur, RIMT University in Theme based makeup. In nail Art competition, Sumanpreet Kaur got the 1st prize and second was bagged by sabhyata, RIMT University. In Rangoli, Rupinder kaur, RIMT University, won the 1st prize and Prince , ACTTI, Nabha the second. Muskaan, RIMT University, won the 1st position in Mural slab competition. In photography 1st position was bagged by karamdeep singh, RIMT and Trishanjit singh, RIMT University, got the second prize. In poster making competition Jaspreet singh, GACTTI, won the first prize and Sanjay, RIMT University, the 2nd. In file decoration Gursimran kaur, RIMT University bagged the 1st position and Iqra Parveen, ACTTI, Nabha the second. In exhibition display Gurmanav, RIMT, department of Fine Arts won the first prize and Pardeep the 2nd and from fashion department Irin won the 1st prize and Harjot 2nd prize. In wall painting competition Arayaman and Mandeep, RIMT University, collectively won the 1st prize. Gurpreet, Muskan and Gurvinder, RIMT University, bagged the 2nd position.
Overall the award of best designer: frills and fringes was given to Anmol and Radhika, RIMT University. Best theme's prize was given to Himanshi and Manreet:theme bridal and most innovative costumes award was given to Jasveen: theme metallic. The show was winded up beautifuly with fashion show by the students that depicted style and grace.
Dr AS Chawla, Vice Chancellor, RIMT University, was appreciative of the initiative taken by the faculty and the students of ,School of fine arts and Design and also the faculty and Students of Mass communication and Media technology for their active participation in covering the entire event successfully.
Prof. Monika,HOD,Fine Arts & Design department, while talking about the importance of Fashion Shows & exhibitions said that such events give practical exposure to the students that help them become professionals.She further appreciated the efforts put in by the faculty and students.